Today, we're excited to announce the launch of 22seven Insights. It's a new research service that will provide reports and consulting to clients based on the totally anonymised, combined data of our users.

It's a way for us to keep 22seven free (and ad free!), while keeping our commitment to you - we won't sell or share your personal information with anyone, or use it to spam you.

22seven Insights uses the same technology that powers some of our nudges you've come to know and love over the years. We're hoping it will empower South Africans to improve their financial positions and create a more stable future for us all.

Here's an example of the type of research we do: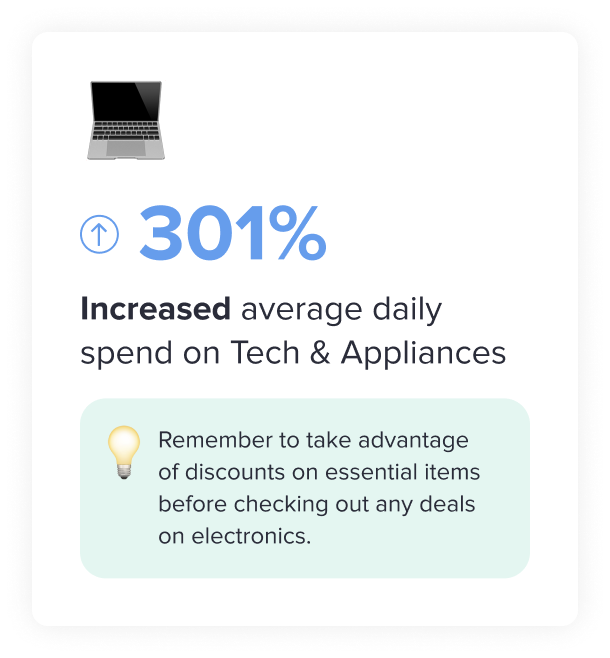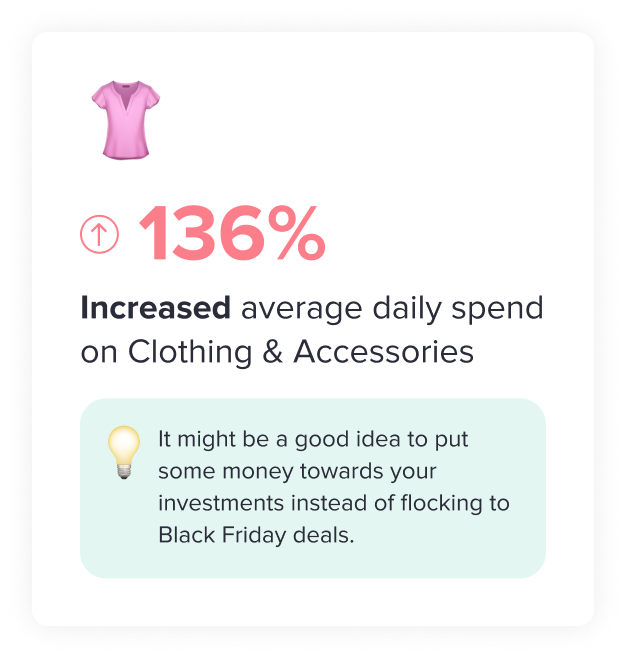 Fancy, right? Remember: we're very serious about privacy and security, so not even 22seven staff can see your personal information.


FAQ's:
What's anonymised, aggregated data and how's it useful?
Imagine a sweet shop where all the sweets are put into a jar. This jar of deliciousness is the aggregate of all the sweets in the shop. There's a lot of useful info the shop owner may want to know. They can answer these questions without touching or tasting any of the individual sweets.
The same idea applies to the anonymised, aggregated spending data of 22seven users. We can answer questions like "how much do all users spend on groceries?" Or "which brands do most users prefer to shop at and how does this change over time?"
How does this benefit me as a 22seven user?
22seven Insights crunches the numbers and packages this aggregated data into relevant groups to answer questions like the above. We then supply this in report form to various clients. The money it makes is used to pay the costs for running 22seven.
This is a double win for 22seven users. First, it ensures we can keep 22seven a totally free-to-use service. And secondly, unlike most other apps, we don't have to bombard you with unwanted ads or sell your contact information to other people who might harass you or try to sell you something.
Who uses this data?
Anonymised, aggregated data is useful to people who need to know what's happening to businesses at a high level. These could be investors, consultants or company management. None of these people are interested in exactly who is doing what, but rather in how a group of people as a whole are acting. That means we never, ever sell information that could identify you. In fact, 22seven staff members aren't even able to see your personal information.
Who owns your data?
You. We believe that 22seven users should always be the owners of their data, so this is spelled out clearly in our Privacy Policy, to which we are legally bound. We won't sell of share your information with third parties, or use it to spam you. Not even our parent company, Old Mutual, has access to your data. We're that passionate about privacy.
Will 22seven remain free?
Yes! We believe 22seven should be free so we can achieve our goal of reducing financial anxiety for all South Africans. 22seven Insights will help enable this while keeping your data secure and your personal information private - always.
Can anyone get my personal information from aggregated data?
No. People who are viewing anonymised, aggregated data can't view anything personal about you. They can only see how a group of people as a whole are behaving. 22seven will never sell information that could identify you. Our Insights team can't even see who you are.
Does 22seven follow privacy and security best practices?
22seven adheres to the same procedures and standards used by banks, the military and governments around the world. Our security is also regularly, independently reviewed and audited by industry experts.
Does 22seven comply with South African regulations?
Yes. 22seven is a juristic representative of Old Mutual Life Assurance Company (SA) Limited, a licensed FSP and Life Insurer.
What security partners does 22seven use?
22seven uses the same security measures as banks, governments and the military. We, along with our partner, make sure your security credentials are completely protected and always encrypted.
Our data partner is the biggest and the best at what they do. Their expertise is used by over 50 million people and over 300 financial institutions worldwide, including 7 of the top 10 US financial institutions. In South Africa they're also used by companies such as Investec, Liberty, Standard Bank and now 380k+ South Africans on 22seven. They hold patents in information security and are regulated like a bank in the US. Security is their business. You can learn more about their security here.
Since we launched in 2012, over 380,000 South Africans have linked more than 1 million accounts to the app and counting. 22seven can't be used to transact on your accounts under any circumstances.
How does 22seven check its security?
We regularly have our security independently reviewed and audited by industry experts. They assess the security of our technical infrastructure (servers, firewalls, networks etc.), our apps (including our website and internal systems) as well as our software development and deployment standards and practices. We immediately address any areas that pose a viable security risk.
Questions? Contact our support team, the Svens, between 8am and 8pm every day of the week.